Dr. Jill Doan, DACM, L.Ac.
Doctor of Acupuncture and Chinese Medicine
Licensed Acupuncturist
Dr. Jill is experienced in treating many different conditions such as menstrual irregularities, infertility, musculoskeletal conditions, anxiety/depression, headaches, menopausal symptoms, digestive disorders, as well as many others. During her coursework, she interned in a variety of clinics, hospitals, and rehabilitation facilities. She has continued her education to include additional training for allergies, digestive conditions, musculoskeletal pain elimination, mental/emotional disorders, and fertility.
Jill received her undergraduate degree from Assumption College in Worcester, Massachusetts, where she graduated Cum Laude with a Bachelor of Arts in Biology. While obtaining her degree at Assumption, Jill worked as a chiropractic assistant. During this time, she met an acupuncturist. Having witnessed the healing effects that acupuncture had to offer for both her family and herself, she knew without a doubt that this was what she wanted to do for the rest of her life.
Jill then continued her educational path towards her career at the The New England School of Acupuncture in Watertown, Massachusetts and graduated with a Master of Acupuncture and Oriental Medicine (MAOM). The New England School of Acupuncture was the first acupuncture school in the United States and remains one of the most prestigious academic institutions in the f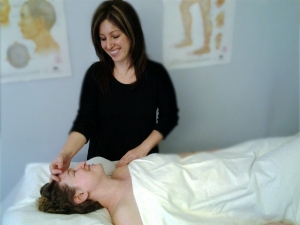 ield.
In 2006, Jill moved from Massachusetts to North Carolina and opened the doors to To The Point Acupuncture. Initially in Cary, NC Jill has since relocated her office to Raleigh, NC.  Though known to be somewhat of a goofball and a free spirit, Jill is quite serious when it comes to treating her patients. She listens to her patients, makes them laugh when they want to cry, and is always researching different ways in which she can best serve her patients using Acupuncture and Chinese medicine.
Having worked in the field for many years, Jill decided to continue on to further her education and completed her Doctorate in Acupuncture and Chinese Medicine at the Pacific College of Health & Science in San Diego, CA.
Being actively involved in the community is important to Jill.  She has served on the board and council as both the Membership Officer and Treasurer for the North Carolina Society of Acupuncture and Asian Medicine (NCSAAM).
When not at work, Jill spends her time balancing a very busy and active lifestyle with her husband and two sons. She can always be found laughing, smiling, and simply enjoying life.
Justin Thornton, LAc., Dipl. Ac.
Justin is a North Carolina licensed and nationally accredited acupuncturist and a graduate of Jung Tao School of Classical Chinese Medicine. Prior to attending Jung Tao, Justin graduated from Appalachian Statue University where he majored in Interdisciplinary Studies with a concentration in holistic health and mind-body practices from around the world. From an early age, Justin has continuously shown interest in natural health and unlocking the potential of the human body through martial arts, meditation, and qigong. With almost a decade of experience in a multitude of holistic health modalities, Justin remains curious and eager to learn more and share his experiences and insights with others.
When not studying or treating patients, Justin enjoys playing music, going on hikes, swimming, bike riding and eating good food with good friends.
Front Desk Staff
When you walk into the office you will see one of these 2 faces smiling back at you.
Lara is a former New Englander who relocated to North Carolina in 1995.  After many years of juggling a family, school, and gainful employment, she completed her Bachelor of Arts through UNCG. She considers herself to be a perpetual student and she is always on the lookout for an opportunity to learn something new.*
Although Lara is not licensed to practice acupuncture at TTPA, she does enjoy needling others with her sharp sense of humor. She provides comprehensive treatment to both friends and family members, as well as two feline companions that suffer from delusions of grandeur.
When she is not at the office, she is probably lost in the pages of a good book or dabbling in digital photography. Or maybe eating a mozzarella cheese stick. She resides in Holly Springs.
*Bungee-jumping? No. Quantum physics? No. Traditional Chinese Medicine? YES!
Jessica has been an active member of the Wake county area for over 30 years. While in high school she completed the CNA program through Wake Technical Community College. After years of working and taking care of her family, Jessica returned to Wake Tech to complete her Associate's degree with a focus in Medical Office Administration and Business Management, followed by completing the North Carolina Real Estate exam to be licensed as a Real Estate Agent.
When Jessica is not here working at To The Point Acupuncture, she is busy helping clients buy or sell their homes. In her free time she enjoys spending time with her son and family, volunteering at the Center of Caregiving to help the elderly continue to live as independently as possible, reading, enjoying the outdoors, and anything crafty.