Poor Ergonomics and Musculoskeletal Pain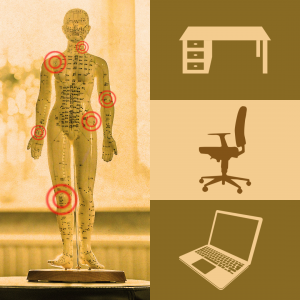 Dealing with poor ergonomics (and prolonged sitting) is a challenge in many work environments and office spaces. A less-than-ideal workstation can compromise your posture and result in stressful repetitive movement and overuse of key muscle groups. If you develop musculoskeletal pain, the effects can carry over into the rest of your life and affect your ability to enjoy other physical or social activities. Many people seek relief through nerve block injections, physical therapy, or anti-inflammatory medications. Traditional Chinese Medicine can also help you manage musculoskeletal pain, especially if you want to avoid taking medication or if you have tried other treatment modalities without success.
Symptoms of Musculoskeletal Pain
Musculoskeletal pain refers to discomfort in the bones, muscles, tendons, joints or ligaments. In addition to specific areas of discomfort, it can manifest in any number of ways, including fatigue, stiffness, general aches, muscle spasms, and difficulty sleeping. If poor ergonomics are a factor, you might be experiencing low back pain, carpal tunnel syndrome, or muscle strain in the neck or shoulders. Eye strain and headaches are likely to be issues as well.
Treating Musculoskeletal Pain with Traditional Chinese Medicine (TCM)
One of the side benefits of utilizing TCM for treating musculoskeletal pain is that it not only relieves discomfort—it can also lower stress and help you to sleep better. Three options you may want to consider: Acupuncture, Tuina, or Qigong.
Acupuncture. Treatment of pain is one of its primary uses. Acupuncture stimulates the energy points of the body to encourage blood flow and healing of inflammation. It also encourages the production of cortisol (a natural steroid in the body) and the release of endorphins (the natural "pain killers" generated by the body). Because Acupuncture can quickly reduce pain and swelling, the time required for injured tissue to heal is also reduced. Acupuncture can be used to treat painful areas throughout the body; needles may be placed locally or involve a combination of acupuncture points.
Tuina. Like acupuncture, Tuina (pronounced twee-nah) also helps with energy and blood flow in the body. It is a form of body work/massage that is characterized by a variety of rolling hand movements (pushing, pressing, kneading, grasping, and stretching). It is similar to acupuncture in that it is used to stimulate different points on the body to encourage healing, but Tuina involves the fingers and acupressure rather than the use of needles. It can also be used in conjunction with acupuncture as a pain treatment for specific joints, tendons, and muscles in the body. It is especially helpful for treating carpel tunnel syndrome, neck pain, and lower back pain. NOTE: Because Tuina targets specific areas of pain and can include deep-tissue massage, initial treatment of those areas may be uncomfortable or cause minor bruising.
Qigong. Qigong (pronounced chee-GONG) is another component of Traditional Chinese Medicine that helps with the flow of energy (qi) in the body, as well as the flow of oxygen. It involves the practice of slow and repetitive movement, meditation, and breathing (the exercises are based on a mind-body connection; you move with your breath.) These body movements are both simple and low-impact, allowing you to gently stretch your muscles and gradually increase mobility in areas affected by pain and tension. Gentle stretching can resolve pain in the hips, thighs, low back, elbows, and knees. Developing a dedicated Qigong practice is beneficial on several levels—it can help ease the depression and anxiety that often accompanies long bouts of pain, while at the same time conditioning your muscles and preventing new aches and pains from occurring.
TCM Has Your Back
Don't let poor ergonomics get you down—or keep you down. There are a variety of ways to treat musculoskeletal pain beyond the general recommendations associated with Western medicine. Acupuncture, Tuina, and Qigong are highly effective methods for addressing pain complaints. If these treatments are completely new to you, give them a go—you'll probably wish you'd tried them sooner!
Resources:
Tips For Setting Up an Ergonomic Workspace
https://www.ttpacupuncture.com/site/wp-content/uploads/2020/05/MayBlogImageBlocks.png
1080
1080
Jill Doan
https://www.ttpacupuncture.com/site/wp-content/uploads/2019/09/To-The-Point-Acupuncture-logo.png
Jill Doan
2020-05-08 12:04:24
2020-05-08 12:04:24
Poor Ergonomics and Musculoskeletal Pain