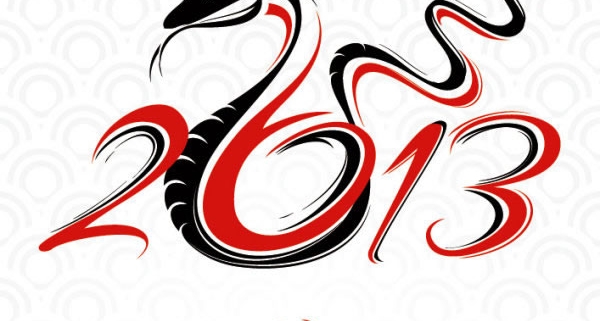 2013: The Year of the Snake. A year for transformation.
Gong Xi Fa Cái! Happy New Year!
If you are like me, the New Year is a time to start over. We all have things we want to do to make ourselves better. Maybe it is to sign-up for a gym membership to try and work off that enormous turkey leg we ate on Thanksgiving, or that extra piece of chocolate cake we indulged in during the holidays. Maybe it is to be a kinder, patient person. Or maybe it is drop bad habits and replace them with good ones such as to sleep more and stress less. But whatever New Year's resolutions we have, we look forward to the beginning of the year to start making these changes in our life. Well if you are already feeling like you have forgotten some of your resolutions or have fallen off the wagon, don't worry because you have a second chance to start all over!
We may be over a month into the New Year, but the Chinese New Year is just around the corner. The Chinese New Year, or Lunar New Year, is the longest and most celebrated holiday in Chinese culture. Different traditions include the cleaning of the house to sweep away the past year, the hanging of red lanterns for good luck, and eating foods which are considered "lucky" with friends and family. There are 12 animals that make up the Chinese zodiac. Each animal represents a different year. Those born in the year of that animal are said to inherit some of that animal's qualities.
The Year of the Snake:
As the Year of the Dragon comes to an end, the Year of the Snake emerges. This year, February 10th 2013 marks the first day as The Year of the Snake. Those born in the Year of the Snake are said to be clever, analytical, and goal-oriented. They are very intuitive and great thinkers. They  also usually look calm on the outside, but are very intense and powerful beings.
So What Does This Mean for You and Your Health?
The shedding of a snake's skin resembles rebirth or new life. The New Year is a great time for a transformation; a time for change. Now is a good time to think about shedding some of that "old skin." Get rid of negative, unwanted energy. Start making some positive changes in your life. Learn from those born the year of the snake; set your goals and accomplish them. Transform your life into something you want it to be, not something it has become. Eating right, exercising regularly, and getting an adequate amount of sleep are all important in maintaining a healthy, balanced lifestyle, but you can also add acupuncture to that list as well. Acupuncture helps to strengthen the immune system, boost metabolism, and decrease stress. The Year of the Snake is predicted to be a year of challenges and conflicts. By keeping your body balanced and healthy, you will be more suited to face any obstacles that may come your way this year.
Wishing you peace, health, and happiness this year and always.
https://www.ttpacupuncture.com/site/wp-content/uploads/2013/02/year-of-snake.jpg
602
600
Jill Doan
https://www.ttpacupuncture.com/site/wp-content/uploads/2019/09/To-The-Point-Acupuncture-logo.png
Jill Doan
2013-02-08 12:36:51
2013-02-08 12:36:51
2013: The Year of the Snake. A year for transformation.