Electroacupuncture is the specialized version of traditional acupuncture that involves running a small electrical current through the pre-placed needles. This is done in hopes of stimulating blood flow and achieving balance throughout the body. Today, we'll explore the many benefits and uses to this newer form of TCM.
Invented by Chinese doctor Tang She-Cheng in 1937, it has a much shorter history in relation to the nearly 2,500 years of manual acupuncture. As a result, the practice is less widely in utilization, but does have proven benefits.
HOW DOES IT WORK?
So, how does it work? While it can seem scary initially, the principles are actually quite simple, and in essence, similar to manual acupuncture. Traditionally, an acupuncturist would place one needle per meridian point, and then manually stimulate the body using that needle and their hands. However, in electroacupuncture, two needles are placed per meridian point and an electrical machine is connected to these needles which sends a current back and forth, and stimulates the meridian point between.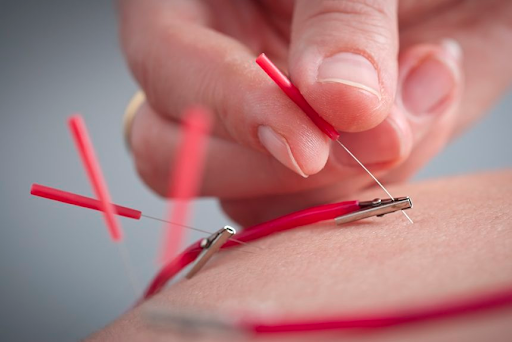 WHAT ARE THE BENEFITS?
Some people may be understandably wary about hooking their body up to an electrical current, so what is the point? According to multiple scientific studies, electroacupuncture has some pretty significant benefits, even when compared to the time-tested standard. Some specific benefits of this variation include increased efficacy in patients with arthritis and osteoarthritis. Likewise, chemo-therapy related nausea and other chronic stress issues have been found to be reduced by this method. Specifically nerve-related issues that benefit from electrical stimulation. 
For example, study done by researchers at Georgetown University found that the applied use of electroacupuncture can reduce physical symptoms of chronic stress quite dramatically. Furthermore, this method can lower production stress hormones, and can be an effective addition to treatments for various conditions.
In conclusion, there are many benefits to this variation of practice, certain groups are at a higher risk for complications. If you are elderly, pregnant, have a pacemaker, other heart-related issues, or experience seizures you should not attempt electroacupuncture.
WHAT DO YOU THINK?
WOULD YOU TRY ELECTROACUPUNCTURE THERAPY?

Unfamiliar with traditional acupuncture benefits? Check some out here!
Sources
https://www.ncbi.nlm.nih.gov/pmc/articles/PMC3947586/
https://www.healthline.com/health/electroacupuncture#how-it-works
https://www.ttpacupuncture.com/site/wp-content/uploads/2019/08/electo.png
342
512
Jill Doan
https://www.ttpacupuncture.com/site/wp-content/uploads/2019/09/To-The-Point-Acupuncture-logo.png
Jill Doan
2019-08-18 14:58:18
2019-10-01 13:17:57
Electroacupuncture Explained