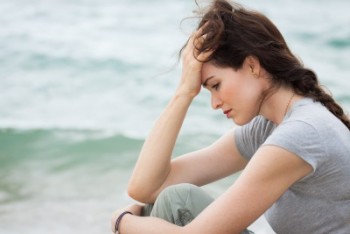 We have all felt sad or depressed at one time or another in our lives, but it tends to quickly pass. For those who are clinically depressed, this feeling tends to last for a much longer period of time and not only does it affect their lives, but the lives of those around them as well. Depression is a mental illness that if left untreated can lead to more emotional problems and also manifest into physical problems. It is characterized by prolonged feelings of hopelessness, sadness, worthlessness and thoughts of death/suicide. Depression affects physical health as well in that a person who suffers from depression may have trouble sleeping, eating, and working. It is estimated that there are 20 million Americans who are affected by depression and it is on the rise. The World Health Organization believes that depression will be the second highest medical cause of disability by the year 2030, second only to HIV/AIDS.
Today, the most common form of treatment for depression is medication. However, more than 60% of patients on anti-depressants are responding with below satisfactory results. They are receiving partial temporary benefit or no benefit at all. Those who do respond to medication only receive temporary benefit/relief from the symptoms. Anti-depressants don't treat the cause, they only mask the symptoms, and the side effects of depression medication have been reported to sometimes be worse than the depression itself.  Even knowing all of this, 11.3 billion dollars a year is spent on anti-depressant medications in the United States.
Traditional Chinese Medicine (TCM) does not see depression as a specific illness for everyone who experiences it.  Chinese Medicine focuses on each individual and customizes the treatments specific to that particular person. Acupuncture is seen as an alternative treatment to reduce the severity of depression. Acupuncture can alleviate the signs and symptoms the person is experiencing as well as address the root cause and underlying imbalances.
Many studies have been done to support acupuncture as a treatment to alleviate depression.  Recently, a randomized controlled study was done. The results showed that the brain chemistry that is changed due to depression can be altered with acupuncture. Electro-acupuncture was performed on points Baihui and Yintang. At the end of the trial, the genes that were imbalanced from depression had become normalized. Acupuncture provides a safe, natural, drug-free way to treat depression.
You can read more about the study here: http://www.healthcmi.com/Acupuncture-Continuing-Education-News/1363-acupuncture-relieves-depression-regulates-gene-expression
"The greatest mistake in the treatment of diseases is that there are physicians for the body and physicians for the soul, although the two cannot be separated." -Plato
https://www.ttpacupuncture.com/site/wp-content/uploads/2014/09/shutterstock_130152032-e1410454542550.jpg
234
350
Jill Doan
https://www.ttpacupuncture.com/site/wp-content/uploads/2019/09/To-The-Point-Acupuncture-logo.png
Jill Doan
2014-09-11 13:05:03
2014-09-11 13:05:03
Acupuncture for Depression