2019: Year of the Pig. A year of fortune and good luck.
Gong Xi Fa Cái! Happy New Year!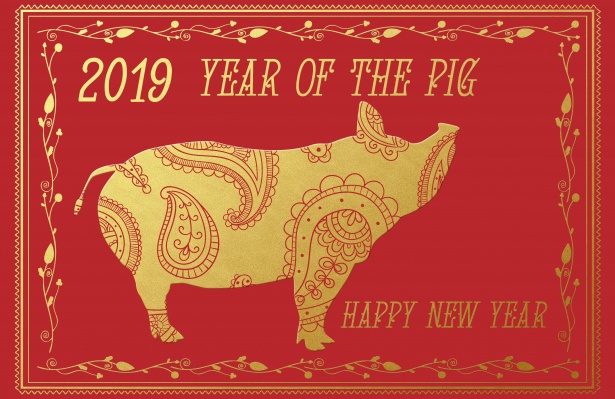 According to Chinese astrology, this is a good year to make money. It is also a great year to build or strengthen friendships and bonds with loved ones. The Chinese New Year, or Lunar New Year, is the longest and most celebrated holiday in Chinese culture. Different traditions include the cleaning of the house to sweep away the past year, the hanging of red lanterns for good luck, and eating foods which are considered "lucky" with friends and family. There are 12 animals that make up the Chinese zodiac. Each animal represents a different year. Those born in the year of that animal are said to inherit some of that animal's qualities. 2019 marks the year of the Pig, the 12th in the 12 year cycle of the Chinese zodiac signs.
The Year of the Pig.
As the Year of the Dog comes to an end, the Year of the Pig emerges. This year, February 5th  2019 marks
the first day of the Year of the Pig. Those born in the Year of the Pig are said to be gentle, generous,
hard-working, and trustworthy. Pigs are always thought to be well fed and so represent abundance in
both wealth and good fortune. They love life and are optimistic by nature. Be careful though, those born
under the year of the pig can be a bit naive and tend to be a little too trustworthy, which can make them
an easy target.
The year of the Pig brings with it a more relaxed and joyous atmosphere. While feelings of wealth and
abundance reign through 2019, it is important to still maintain a close eye on expenses and your budget.
Well considered actions will be rewarded more than risk taking ones.
Take care of yourself.
Because the pig is social and generous by nature, he does tend to over extend himself. Some of the 12
signs under the Chinese zodiac may feel this more than others. Pigs are known to have a large appetite
and will eat almost anything. Be aware of gluttony this year. Portion control and staying active will help
keep this under control. Eating right, exercising regularly, and getting an adequate amount of sleep are
all important in maintaining a healthy, balanced lifestyle, and you can also add acupuncture to that list
as well. Acupuncture helps to curb cravings, boost metabolism, and maintain focus. The Year of the Pig
is predicted to be a better year for most than previous years. By keeping your body balanced and
healthy and your mind at ease you will be more suited to face any obstacles that may come your way.
Wishing you peace, health, and happiness this year and always.
Jill Doan- To The Point Acupuncture
https://www.ttpacupuncture.com/site/wp-content/uploads/2019/02/year-of-the-pig-2019.jpg
399
615
Jill Doan
https://www.ttpacupuncture.com/site/wp-content/uploads/2019/09/To-The-Point-Acupuncture-logo.png
Jill Doan
2019-02-03 07:03:30
2019-02-03 07:03:30
2019: Year of the Pig. A year of fortune and good luck.